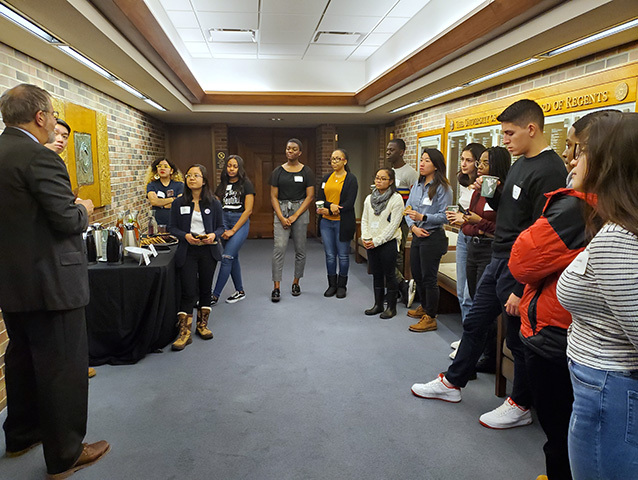 What is Posse?
The Posse Scholarship is awarded by the Posse Foundation, which works with select communities across the country to encourage student study in the STEM academic fields. It offers four years of tuition and mandatory fees to first-year undergraduate students at partner institutions.
The Posse STEM Program recruits, trains, and supports cohorts of students in science, technology, engineering, and math. Over the past 12 years, the Posse STEM Program has selected nearly 800 Scholars, the majority of whom are first-generation four-year college-goers from underrepresented backgrounds. Over 85% of the program's more than 230 alumni graduated with a degree in a STEM field. 
How is Posse STEM preparation different from Posse Scholars? 
Besides the demonstrated academic potential and leadership within their high school, community or family, the ideal STEM candidates are high school seniors who have a demonstrated interest in STEM and motivation to major in STEM. They are curious and have the capacity to think like a scientist, and have taken a challenging STEM course load in high school. 
How do high school students get involved with Posse STEM?
High school juniors and seniors in 10 U.S. cities are nominated by their high school or a community-based organization. Eligible students participate in a selection process in the fall semester of their senior year.
Once awarded the scholarship, Posse STEM students begin weekly after-school workshops in January. Sessions are facilitated by Posse trainers who continue to work with the students once they have matriculated at college. A series of workshops is designed to help Posse Scholars succeed in college and develop strong leadership skills. A two-week summer immersion program exposes students to college-level STEM work.
How do I contact someone from Posse?
Contact information for Posse representatives and offices are available on the Posse Foundation website.