Tim Mayer, 2018, LSA
For years, studies have shown that African Americans have significantly lower self-esteem than whites.
But what Tim Mayer's research indicates is that, in some cases, this difference may no longer hold true. In fact, young black women may have higher self-esteem than their white peers by some measures.
"It's an interesting shift that I'm really excited and relieved to see," Mayer said. "It definitely calls for more research to see how this compares to other age groups."
The psychology junior and research assistant is finishing his second year of work with the Relationship Dynamics and Social Life (RDSL) Study housed out of the University of Michigan's Population Studies Center. Mayer's focus this past year has been measuring racial differences in self-esteem among adolescent females.
It's the relationship between cause and effect that initially piqued Mayer's interest in both psychology and his research work.
"There's so much research out there that shows all the negative impacts that having low self-esteem can have on an individual, from depression and suicide ideation to lower socioeconomic success in life and increased risk for criminal behavior," said Mayer, a first-generation college student from Ionia, Mich. "It's because of all this that identifying factors leading to disparities in self-esteem is so crucial to the fields of psychology, sociology, and public health."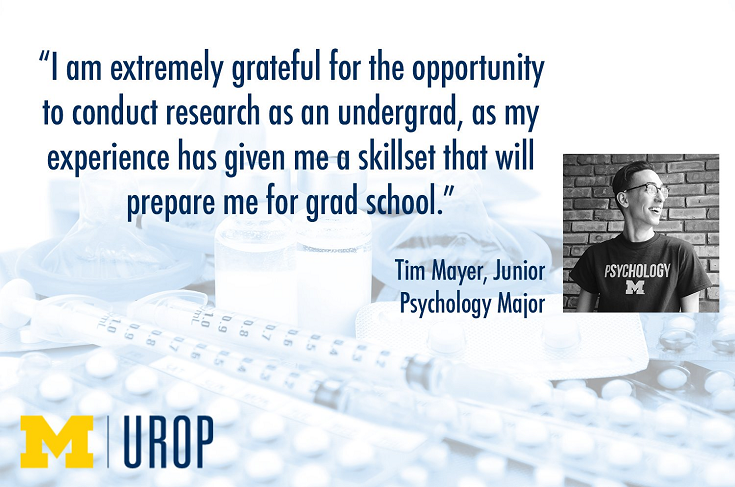 A unique program that spans all U-M schools and colleges
The university's Undergraduate Research Opportunity Program, or UROP, creates research partnerships between undergrads and U-M researchers. It's a unique program that gives 1,300 students, including Mayer, valuable research and professional experience each year.
It's thanks to UROP that Mayer has been able to work with the RDSL study.
Mayer is a member of UROP's second-year program, Research Scholars, which gives students a chance to conduct research more independently while still under the guidance of a research mentor.
"UROP, and particularly Research Scholars, has given me opportunities in research that I definitely wouldn't have had otherwise," he said. "From writing a research proposal to conducting the research and and presenting it at a conference, UROP has pushed me to grow an immeasurable amount these past two years."
For many students, including Mayer, participation in UROP qualifies for Work Study funding through their financial aid package.
Every school and college on campus participates in the program. Research topics vary widely from the role of proteins in leukemia to soil contaminant recovery. One project involves a video collaboration with an inmate serving a life sentence.
Earlier this month, Mayer presented his findings to the National Conference on Undergraduate Research at the University of Memphis. UROP provided him a travel grant so he could attend.
Mayer plans to earn his Ph.D. in psychology and work in a clinical setting after graduation.
"My time with UROP and the RDSL study have set me up to have meaningful experiences with future research projects in undergrad and grad school," he said. "That's something I'm truly thankful for."
Those interested in learning more about the Undergraduate Research Opportunity Program (UROP) should contact them at 734-615-9000 or urop.info@umich.edu.