Sharae Franklin, 2018, LSA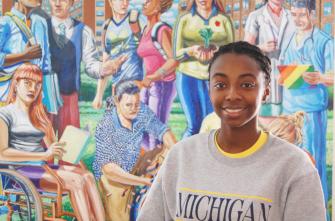 Junior Sharae Franklin has always been curious about people and cultures different from her own.
As a young black woman growing up in a racially homogenous neighborhood of Detroit, Franklin saw the need to better understand the perspectives of a small population of Bengali students at her high school, Cass Tech. So she partnered with another student to start a diversity group to get the conversation started.
It's no surprise, then, that when representatives from the University of Michigan visited her school to promote a campus learning community focused on diversity, service, and social justice, Franklin knew she had found her home.
In the Michigan Community Scholars Program, students "model an ideal community" through intergroup engagement, responsibility, friendship, and collaboration. The program is characterized by small courses, faculty-student contact, service projects, leadership opportunities and social programs.
"It's a diverse community, and I knew I'd be able to learn about people from various backgrounds and walks of life," said Franklin, who now helps to coordinate the program's Intergroup Relations Council, a committee that hosts student dialogues on timely social and cultural topics every other Sunday.
In addition to the dialogues, Franklin has organized a student trip to learn about Detroit, participated as a model in the African Students Association Cultural Show, and served on the planning committee for the Tri-Campus Community Engagement Summit, a first-of-its-kind gathering of student groups from the University of Michigan's three campuses – Ann Arbor, Dearborn, and Flint.
Her work on the planning committee earned her an award from the Division of Student Life as a "Michigan Difference Student Leader."
And for Franklin, a first-generation student who sees college as a place to take risks and be bold, the quest for understanding led her to summer service-based learning trip to India, where she worked for weeks as a volunteer at a Sikh temple.
"It's important to get to know other people and understand where they're coming from," she said.