Jonathan Chen, 2017, Business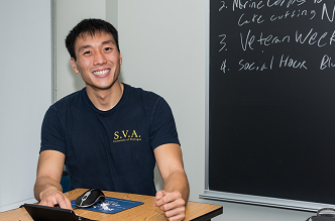 The University of Michigan's mission statement reads, in part, "to serve the people of Michigan and the world."
Service is something that Jonathan Chen knows very well.
As a senior in high school, Chen enlisted in the Marine Corps, becoming a sergeant and serving with the 5th Regiment in Afghanistan from 2011 to 2012. Trained as a satellite communications technician, Chen's role was to ensure the regiment had constant communication throughout all levels of command within the country's Helmand Province.
After the announced withdrawal of combat troops in early 2012, Chen's focus shifted to aiding in the secure and strategic drawdown of military resources from the country, specifically communications equipment and secret cryptographic items.
"My parents emigrated from Communist China," Chen said. "Because of that, I've always had an overwhelming need to serve and give back to this country that has given us so much."
Today, as a senior in U-M's Ross School of Business, Chen balances his pursuit of a bachelor of business administration and dual minor in Asian Studies and American Culture with his service as president of the Student Veterans Association: University of Michigan – Ann Arbor chapter.
The student group provides support and camaraderie for U-M students who are veterans through an informal social support network, direct mentoring, regular meetings, and special events throughout the year.
On a recent Wednesday night, about 20 student veterans gathered in a Mason Hall classroom to eat pizza, rag on each other, and hear presentations from two companies interested in hiring veterans.
"Adjusting back to the civilian world is hard," Chen said. "We get out of the military and we're trying to navigate what it's like with this veteran label.  And then you compound that with coming back to school.  We're significantly older and some student veterans have kids and spouses to take care of.  We experience the classroom and the university, on all levels, very differently."
In all of its activities, the group works to ease the transition to student life for incoming veterans and ensure that current student veterans are successful. Additionally, the group seeks to be a positive and collaborative voice for student veterans' concerns and issues in the larger university community.
"Serving in the SVA is all about helping my brothers and sisters," Chen said. "In the military and especially in the Marine Corps, all you have at the end of the day are your comrades to your left and right.  If we don't do it, nobody else will."
For more information on U-M's commitment to veterans, as well as a complete list of Veterans Week events from Nov. 7-11, 2016, please visit the Veteran and Military Services Program web site.