Steve Smith, 2019, Sport Management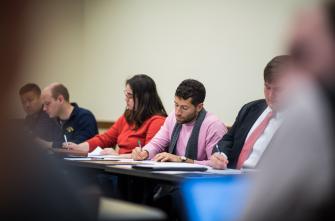 Veteran graduate student Steve Smith is no stranger to hard work, determination, and going the extra mile. In high school he literally did just that: every week day, Smith traveled approximately 100 miles to attend classes.
It is this tenacity and dedication that has helped propel him to where he is today: home @Michigan. However, Smith is unabashed in his acknowledgement of how others have influenced him and adamant they be given credit for all they've done: "I have not done any of this on my own."
Never give up
After high school, Smith attended Grand Valley State University, where he majored in political science. It was here that Smith met an incredibly influential mentor, Thomas J. Haas, the current president of Grand Valley State University, with whom Smith still keeps in touch. Haas was the former dean of academics at the Coast Guard Academy, and retired as a captain from the U.S. Coast Guard.
When it came time for Smith to decide what was next after college, Smith states, 'President Haas encouraged me to apply [to Officer Candidate School at the Coast Guard Academy], and so I went for it." But Smith didn't initially get the news he was hoping to receive. He was denied entry into the training program at the Coast Guard Academy on his first two attempts. But as they say, third time's the charm; Smith was accepted after graduating from GVSU and enrolled in OCS in Connecticut.
 
Community at sea
It wasn't just the water or a sense of duty that called Smith to join the Coast Guard. "I was an Eagle Scout growing up, and I played on sports teams all of my life. I love being a part of a community and I wanted to serve my country. The Coast Guard allowed me to do all of these things at once, while additionally giving me a chance to explore some of the great cities in America and around the world."
After attending OCS in New London, Connecticut, Smith spent two years serving on a ship in Cape May, New Jersey. From there he transferred to New Orleans, followed by a tour in Seattle, where he served as deputy enforcement chief. He still keeps in touch with people from every location at which he's served. "It feels good knowing there's always someone to whom you can reach out," Smith affirmed.
While in Seattle, Smith began an MA program through the U.S. Naval War College. Always looking to the future, Smith decided to apply to graduate programs at several universities, and was thrilled to be accepted to U-M's master of science program in sport management. He packed up his things, drove across country with the woman he loves, and began school the following week.
On dry land
Smith quickly found a warm, built-in community within U-M's School of Kinesiology. He was thrilled to discover that U-M made it possible for him to pick classes beyond just his area of study, such as entrepreneurship and independent studies. Taking some of those classes led him to realize he wanted more than one master's degree.
Thankfully, Michigan allows students to pursue dual graduate degrees. "Beth Soboleski at the Ford School and Charlene Ruloff within the School of Kinesiology really encouraged me to apply for the M.P.A., which is a one year program. I felt as though they were both extremely supportive, and always willing to answer all my questions along the way (I probably asked too many questions!)," says Smith.
Smith applied, was accepted, and finds earning two degrees both challenging and rewarding, especially in terms of staying organized and prepared, something his training in the Coast Guard heavily emphasized.
Outside of his academic studies, Smith has found community with U-M's boxing team, which he says is "both physically and mentally challenging. The team is comprised of 40-60 people who all want to work hard, and are interested in learning about themselves. They've nick-named me Grandpa Steve, and I've definitely embraced it," Smith smiles.
Smith is involved with veteran students on campus, and currently works as a graduate liaison for PAVE ( Peer Advisors for Veteran Education), an on-campus peer support program that connects newly admitted, military-connected students with a current successful student who shares their military background.
He also volunteers with Service to School, a non-profit born out of Stanford, (a university which he also attended through a summer program for vets). "Service to School helps veterans get into the school of their dreams. I used their services when I was applying to U-M, and it's important for me to give back by volunteering with them."
The village keeps growing
"I can't emphasize enough: I could not have done any of this on my own. I've truly had an amazing support network and people who have believed in me, all along the way," Smith says sincerely. "People wrote letters of recommendation for me to go to OCS, three times; for me to go to Michigan; to attend Stanford; and so much more... I am someone who was raised by a village, and that village has helped me and protected me many times."
For more information on U-M's commitment to veterans, as well as a complete list of Veterans Week events from Nov. 5-12, please visit the Veteran and Military Services website.