Lydia Pinkham (Earth and Environmental Science)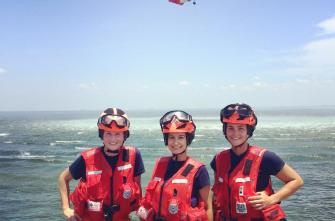 While Lydia Pinkham's journey to Ann Arbor may be uncommon, the story of how she found success on campus is resoundingly familiar.
Before coming to the University of Michigan, Pinkham served in the United States Coast Guard as a Petty Officer Machinery Technician Second Class. She was stationed in Seattle, Virginia, and Florida, and deployed for missions to places like the Bering Sea and the Central Pacific along Central and South America.
After ending her military service, Pinkham transferred to U-M in the winter of 2018, having completed prerequisites through other institutions while on active duty. Ultimately, she decided on U-M thanks to the appeal of its academic programs and military services programs, as well as a desire to be closer to her family.
Despite U-M's academic strengths and prominent presence of groups such as the Veterans and Military Services program (VMS), Peer Advisors for Veteran Education (PAVE), and the U-M chapter of Student Veterans of America (SVAUM), Pinkham's start on campus was not as smooth as she'd hoped.
"My first semester at U-M was hectic and a big adjustment, and I wasn't too involved with the PAVE or SVAUM communities," Pinkham said. "And to be honest, my grades were struggling and I was in a stressful living situation, and didn't spend too much time on campus."
About a year into her time at U-M, she finally attended a SVAUM meeting, and everything changed. "Suddenly, I had friends on campus, ones who were closer to my own age and would understand the acronyms I used all the time, and who understood some of the experiences I'd had before coming to U-M."
Her work with VMS and the PAVE program also paid dividends that she looked to pass on to the next generation of student veterans on campus.
"My PAVE advisor also helped me adjust; he would ask how I was doing, helped me find the right buildings on campus, and provided general support whenever I needed it," Pinkham said. "Because of my experience with him as a PAVE advisor, I applied to be an advisor as well, and I've been serving in that position for three semesters now."
Pinkham will graduate in December 2020 with a degree in Earth and Environmental Sciences (Geology concentration), as well as a minor in Biological Anthropology. Her advice to veterans who will come to campus after she departs is simple: "Get involved."
"There are so many resources here for veterans that aren't regularly used, and only by students asking questions and current students continuing with outreach will those resources be made known," Pinkham said. "PAVE and SVAUM are great tools for veterans, and we're lucky to be at a university that has so many people wanting us to succeed."