Joseph Jackowski, LS&A Biopsychology, Cognition, and Neuroscience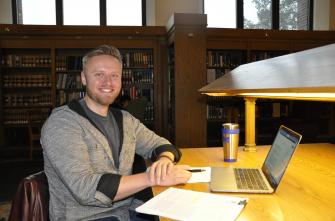 Before coming to the University of Michigan, Joseph Jackowski had always been fascinated with the human mind.
"It had seemed to me, for some time, that the best we can do in life, the most we can control, is our own behaviors," Jackowski said. "Regardless of how much control we have over the state of the world, its obstacles and obscenities, we can always aim to control ourselves, ideally, in service of something meaningful."
After exiting the Marine Corps, Joseph decided to pursue this interest in the human mind and investigate what about our minds and ourselves is truly influencing these behaviors. After exploring different opportunities, Jackowski decided on U-M College of Literature, Science, and the Arts' Biopsychology, Cognition, and Neuroscience program as his top choice, saying that it offered, "the perfect overlap between mind and body."
Since arriving on campus in Ann Arbor, Jackowski has found both inspiration and challenges. Being a 27-year-old transfer student and veteran means there are some gaps between Jackowski and his classmates when it comes to interests and personalities. Nevertheless, Jackowski said these gaps are infrequent, adding that they are, "minor in comparison to the opportunities and genuine, sincere, and often inspiring people I've met since moving here."
Jackowski specifically mentions U-M's Office of Veterans and Military Service (VMS) and the U-M chapter of the national Student Veterans of America (SVA) organization as two groups that have provided meaningful support during his time on campus. 
VMS helped Jackowski to grow professionally by providing support for the transition from active-duty military to attending U-M, as well as funding for professional development opportunities. These opportunities include attending an SVA Leadership Summit in Boston, which helped Jackowski to learn about how he wanted to support veterans and the veteran community here on campus.
"The Student Veterans of America, the major veteran's organization on campus of which U-M is a founder, took me in from the moment my boots hit the ground," Jackowski said. "The leadership there have helped me personally and professionally and they are half the reason that I love being at U-M. I couldn't be more grateful."
Looking ahead, Jackowski is eager to continue his involvement in VMS and SVA programming, as well as his work on his Honors Thesis.
"I genuinely enjoy following the lantern of curiosity wherever it happens to lead, and I see this thesis as a chance to explore what the world is really like – what it has to offer," Jackowski said.