Alyssa Carrillo, 2018, Dental Hygiene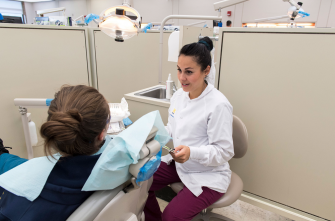 When Alyssa Carrillo submitted her transfer application to the University of Michigan three years ago, she didn't tell anyone.
The chances weren't good, she thought, for a 24-year-old Air Force Veteran from Muskegon, Michigan, who hadn't taken high school very seriously.
"I didn't want my parents to get excited about the idea only to see me not get in," Carrillo said. "It was a shot in the dark."
A different path
At the age of 17, with high school graduation approaching, Carrillo had no idea what she wanted to do with her life. So instead of wasting time and money on college courses that might send her in the wrong direction, she figured she would take a few years to figure it all out.
The military gave her those few years. She enlisted in the Air Force right out of high school and was assigned a role as a dental laboratory technician.
When her recruiter called to explain the new gig, Carrillo was less than pleased.
"I just thought, 'oh, that's disgusting!'" she said. "I didn't want to deal with people's teeth. I was crying when I called back to accept the offer."
After eight and a half weeks of basic training and another six and a half months of technical school at Sheppard Air Force Base just outside of Wichita Falls, Texas, Carrillo was stationed at Langley Air Force Base in Virginia.
For the next three and a half years, Carrillo worked in the dental lab at the base, making impressions, crowns, dentures, and other dental devices and implants for military members and their families.
While there, she became more focused on her education, earning an associate's degree in applied sciences and planning for what to do after leaving the service.
For an assignment in one of her communications classes, students were asked to write a "special occasion" speech and deliver it to the group.
"I wrote mine as if I was giving the commencement at U of M," Carrillo said, laughing.
"It so weird, but I feel like going to U of M is like every Michigander's dream at some point," she said. "By the time I was 13, I had thought that that dream was pretty unrealistic."
But the wheels started turning.
"I can't believe I'm here"
After completing her active-duty service and returning to Texas to take additional coursework toward a bachelor's degree in communications at the University of Texas at San Antonio, she applied to U-M's dental hygiene program on somewhat of a whim.
A faculty member at her university had encouraged her to explore programs that aligned with her military experience, and she knew that U-M's program was one of the best in the nation.
It was the only program to which she applied, and she was accepted.
Now at the beginning of her senior year, she is still amazed at how it all worked out.
"Sometimes I'll be sitting in the Big House and will just think, 'wow, I can't believe I'm here,'" Carrillo said. "I vividly remember sitting in front of the TV, watching Mike Hart with my dad and thinking how awesome it must feel to be a part of that student section."
The experience has been a humbling one, she said.
"I like U-M because I feel like I'm typically surrounded by people who care very much about being successful," Carrillo said. "Sometimes that can be overwhelming, but it's unique and not something you experience all the time."
Unique challenges
Aside from the rigorous academics, student veterans often encounter a set of challenges unique to their background and experiences.
For one, they're often quite a bit older than the average undergrad. Carrillo, for example, is nearly a decade older than many of her peers, something that she said is often on her mind.
"It can be frustrating to hang out downtown - I just feel really old sometimes," she said. "I walked into Urban Outfitters just this past weekend and they were playing Metallica, and I was just thinking, 'does anyone in here even know who this is?'
"Nearly every veteran on campus feels like Billy Madison when walking into classes. It can be tough to relate. That's a very commonly expressed thing within our student veteran community."
Carrillo said another challenge for student vets is encountering stereotypes that others have about them and their experiences.
"A lot of people, I think, look at veterans as an abrasive community, but it's really not like that at all," she said. "We have different, real, and sometimes more mature life experiences. That can make it difficult for other college students to understand. Our opinions and feelings come from a place of experience and sharing those is our way of trying to connect.
"We're a community that is immediately accepting of each other and at the end of the day, we are all very accepting of others, as well," Carrillo said. "For instance, I've never seen as many grown men hugging as I do with our Marines."
Support and community on campus
Despite the challenges, the University of Michigan has been supportive through well-established groups and programs aimed specifically at veterans, Carrillo said.
As soon as she arrived on campus, she got involved with the university's chapter of the Student Veterans of America with its mission of support and camaraderie for vets. She now serves as the group's vice president.
She also worked last year as a peer advisor and the university's team leader with Peer Advisors for Veteran Education, or PAVE, an on-campus peer support program that connects newly admitted, military-connected students with a current successful student who shares their military background.
This role allowed her to attend various conferences around the country where she realized just how well the university is established in regard to supporting veterans.
"Other schools would come up to us at these conferences for advice and ask us questions about issues they were having," Carrillo said. "It became very clear to me that our school was known for its successful programs and groups for veterans to turn to for many different types of support. I feel very lucky to be a part of this university's student veteran community - one that provides a sense of belonging. It's much like that of the military families all of us have made during our service in the past.
"It truly is a bond unlike any other."
For more information on U-M's commitment to veterans, as well as a complete list of Veterans Week events from Nov. 6-10, please visit the Veteran and Military Services website.