John Brown (Ross School of Business)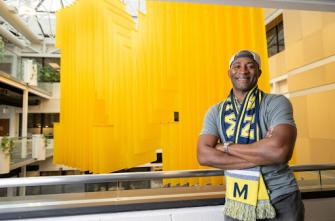 When John Brown was researching master of business administration (MBA) programs, there were three key factors that he was weighing: "culture, credibility, resources." For Brown, who's still active with the Marine Corps, "culture was going to be the defining factor" in ultimately selecting the Ross School of Business to pursue a masters degree.
Brown grew up in Newport News, Va., a city with a notable military presence, so he said it was not surprising that he ended up wanting to join the service. Prior to joining the Ross community, he had been deployed to Iraq, Afghanistan, the Republic of Georgia, and Norway. While still serving, he also enrolled in Virginia Commonwealth University, earning a degree in mass communications. Along the way, he realized his ideal work would bring him more toward the brand management and entertainment space, so he opted to later pursue an MBA.
In the application process, Brown recalled reaching out to three student ambassadors. Each one was quick to respond and eager to share their wisdom: "Everyone I talked to at Ross when I went through the process at Michigan was phenomenal."
Once on campus, Brown joined the Ross Armed Forces Association and was also elected as the Ross Class of 2024 Section Three President.
Brown describes his first semester as being "intense," but found a "pay it forward culture" prevalent at Ross to be reminiscent of the Marine Corps and key in helping him push through the initial challenges of business school.
For instance, after struggling with some statistical work, one professor helped him gameplan for the content and connected him with an Excel tutor to help level up his technological skills.
"Whenever I ask for help," Brown says, "there's always been a steady flow of resources."
His advice to future veterans who are pursuing college opportunities? "Be laser-focused, intentional about what you want," but also "keep an open mind when you get to where you're going, because you don't know what you don't know. It could take one experience, one club meeting, one information session that completely changes your life."
Brown will graduate with an MBA from the Ross School of Business in 2024.
Learn more about veterans on campus at the U-M Veterans and Military Service website.