Report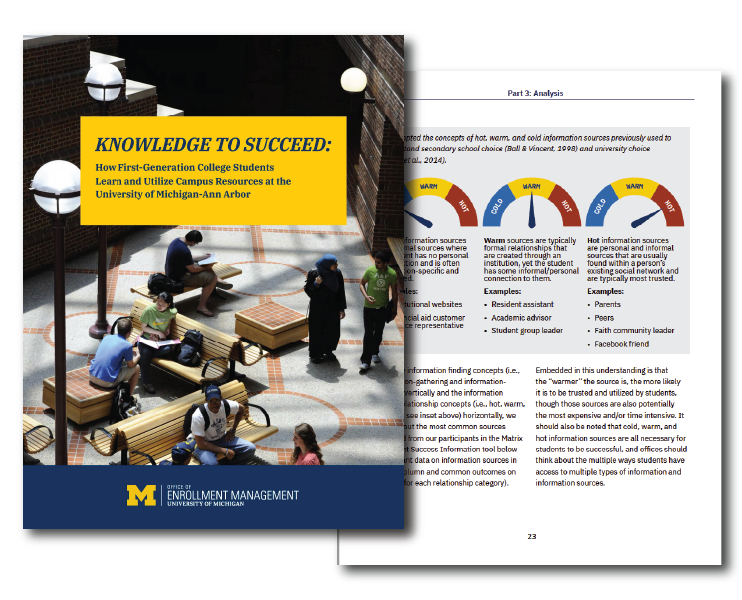 Knowledge to Succeed: How First-Generation College Students Learn and Utilize Campus Resources at the University of Michigan-Ann Arbor
Understanding and assisting the success of first-generation college students (FGCS) is essential in order to create more equitable campus communities and close existing success gaps. The following report describes the findings from a research study that investigated the experiences, perceptions, and ideas of how FGCS learn about and utilize campus resources in order to be successful.
Download Report (PDF)
Contact
We would be happy to continue the conversation regarding first-generation college student success with you and your team. In particular, we welcome ideas about how to use the findings from this work to pilot new interventions, training, or assessment strategies, or other projects in which we might collaborate. Please feel free to contact us at first-gen-success@umich.edu.
Overview Videos
Introduction
Learn about the purpose of research in enrollment management, the campus impetus for this applied research project, an overview of the research project, and resulting products.
The Model of Advisor Trustworthiness (MAT)
A brief overview of the Model of Advisor Trustworthiness, designed to conceptualize the characteristics and behaviors first-generation students look for in a trusted university advisor.
The Matrix of Student Success Information
A brief introduction to the Matrix of Student Success Information, which highlights the ways formality and familiarity influence the utilization of campus resources for first-generation student success.