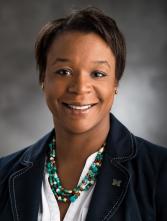 When Derek Blumke arrived on campus nearly a decade ago, he saw the University of Michigan as a place that was unsupportive to students like him.
Blumke did not enroll after completing high school like the vast majority of our student body. Instead, he had recently separated from the United States Air Force after six years of service and three tours of duty in Afghanistan.
As a military veteran and an older student, he felt isolated and struggled to find his footing in a campus culture that didn't reflect who he was or what he had experienced.
So he worked with fellow students and university administrators to change it.
In fall 2007, Blumke founded a veterans group on campus and later co-founded the Student Veterans of America, a national advocacy group that now has more than 1,300 chapters. Less than a year later, with the partnership of key university leaders, the Student Veterans Assistance Program (now Veteran and Military Services in the Office of New Student Programs) was created. In subsequent years, the university changed its non-discrimination statement to be more inclusive of veterans, streamlined tuition payments provided by the Post 9/11 GI Bill, began offering priority registration for veterans and military members, provided in-state tuition rates for all veterans and military members, and instituted an annual Veterans Day lunch for students, staff, and faculty.
Engaged, Collaborative, and Passionate
Today at the University of Michigan and on college campuses across the country, there are countless students like Derek Blumke who are more willing and passionate than ever to engage university officials in challenging the status quo regarding all aspects of student life, from admissions policies to diversity initiatives to student support structures.
An article in The Atlantic last year heralded the uptick in student civic engagement as "the renaissance of student activism." Certainly, this is evident on campuses across the country as students take on – often quite vigorously – issues as varied as access and inclusion for students of color, university divestment in controversial industries, institutional handling of sexual assault, university funding, and the rights of undocumented students.
It seems more and more apparent that the era of purely top-down university administrating is in its death throes, and our students are unlikely to mourn its demise.
Research on Millennials – the generation commonly described as being born between 1980 and 1999 – has shown them to be more assertive and extroverted than previous generations. In an academic setting, they're more likely to challenge their professors on grades or the relevance of assignments. They seek out applied team learning rather than straight instruction.
Entrepreneurship is also of interest to these students who have come of age at a time of unstable market conditions and workplace volatility. At the University of Michigan, there are more than 30 entrepreneurial student organizations. Undergraduate and graduate students have started more than 300 ventures in the past year alone.
In the workplace, Millennials expect close relationships and frequent feedback from leadership. They seek collaboration, a casual free flow of ideas, and flat leadership structures.
A Chance to Foster Leadership
As educators and administrators, this presents an opportunity for us to engage our students not only in their scholarship, but also in their leadership. We know that universities traditionally operate in a hierarchical nature, but there is value in developing this type of rapport with students even if, at times, it obfuscates the policy-making process.
On our campus and in our community, educational moments occur not only in the classroom, but in administrative offices, student unions, and Board of Regents meetings. To make sure our students are well-equipped to take on the societal challenges of their generation, it's incumbent upon us to help them focus their passion, communicate effectively, navigate complex political situations, respond to criticism, and grow as leaders.
In my two years at the University of Michigan, I have been fascinated by the thoughtful, progressive, and often insistent manner in which our students seek out university leadership to discuss campus issues. Let us tap into that passion to not only better our university community, but to nurture and develop our society's next generation of leaders.
Kedra Ishop is the Vice Provost for Enrollment Management, Office of the Provost and Executive Vice President for Academic Affairs at the University of Michigan and former admissions director at the University of Texas at Austin.